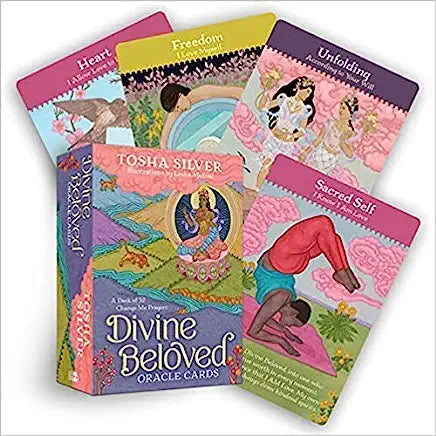 Divine Beloved Oracle Cards: A Deck of 52 Change Me Prayers
Invite the Divine into your life and tap the hidden power of spiritual surrender with this oracle deck from the author of

 
Change Me Prayers
.
"Change me, Divine Beloved, into one who can give and receive freely
and be a clear vessel for Your Light."


Petition the Divine for support and transformation, wherever it's needed in your life. With this richly illustrated new oracle deck, beloved author and teacher Tosha Silver puts her signature "Change Me Prayers" at your fingertips and offers the secrets to:
 

Loving and accepting ourselves just as the Divine loves us

Acknowledging feelings of anger, resentment, or bitterness—in order to release them

Staying open to guidance, even when it comes in unexpected forms

Becoming a conduit for Divine blessing and the highest good

Trusting that all things are unfolding as they should 
 
"[Tosha's] prayers let our connection to the Divine be intimate and immediate, so we can experience Divine love when we need it most," says Meggan Watterson, author of 
Mary Magdalene Revealed.
 "Right in the midst of our everyday panic and dread, right when we might shut down, love reaches farther instead."