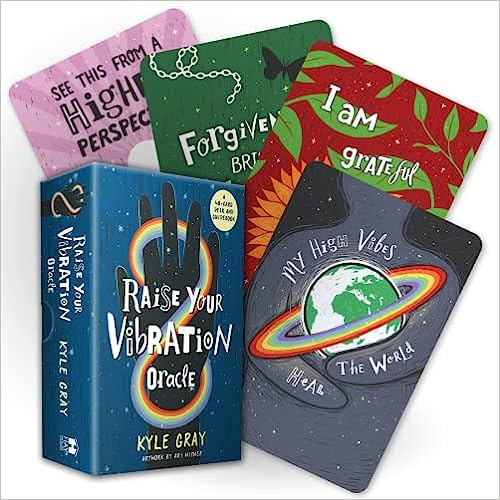 Raise Your Vibration Oracle: A 48-Card Deck and Guidebook Cards
This new deck from Angel expert Kyle Gray shares vibrant, high-vibe messages based on each of the 11 chakras.
Tune in to the frequency of these beautiful cards, inspired by the chakras and kundalini, and cultivate high-vibe practices to find guidance, support, and balance.
'Kyle Gray is an incredibly talented medium and guide for a new generation of spiritual seekers and the already converted.' Gabrielle Bernstein,

 
New York Times
 

bestselling author

Each engaging card in this deck will bring you closer to a higher frequency and help you find inner confidence, self-trust, and purpose. With 11 themes such as 'Ignite', 'Express', 'Activate', and 'Manifest', the cards align with one of the 11 chakras and kundalini to offer you insightful guidance for any challenge, event, or question.
 
You'll find inspiration through the high-vibe illustrations by Ari Wisner and feel supported by each carefully curated message. Through this deck, Kyle shows you how to discover your true potential, elevate your vibration, and create an incredible life.